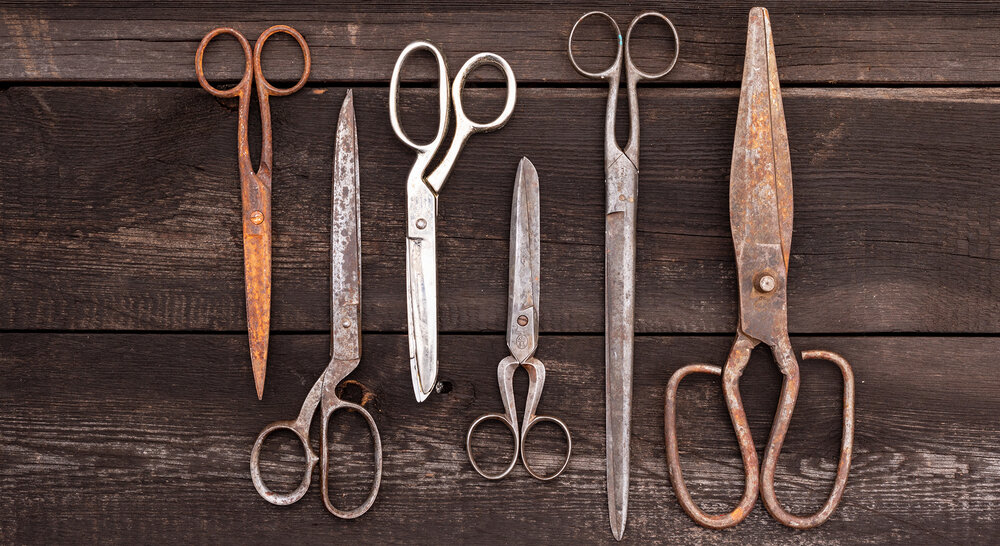 Scissors are, without question, my favorite tool.
Having the right scissors makes the most difference in the quality and pleasure derived from any textile related work.
Our series, Tools of the Trade, is focused on implements used in the creative textile recycling processes. Our tools, like the work we perform with them, are simple, accessible and often carry ancient roots. Today we are spotlighting scissors, a tool that has a long history and is indispensible in the studio. We use a variety of scissors around here for so many tasks, from deconstructing our raw material garments, to carefully cutting components for our finished work, assembling kits and thread snipping as we sew. The everyday wear and tear seen on a well-worn pair of scissors connects maker to tool and speaks of creative history. Explore various types of scissors below and purchase our favorites here.
Archeologists have determined that scissors were certainly around in Mesopotamia 3000-4000 years ago. This is the oldest known use of what has become our everyday tool. The oldest tool found to date is a spring loaded version consisting of two heavy bronze blades affixed to a thin strip of curved bronze, holding the blades in alignment and allowing them to spring apart between squeezes. Pictures of this ancient scissor show it's close connection to shears used today for hand-cutting sheep's coats – shears.
This spring loaded style was carried down through the ages and was popular until the 16th century in Europe. The introduction of pivoted scissors, more of a direct ancestor of today's variety, is attributed to the Romans dating back to around 100AD and became common in ancient Rome as well as China, Japan and Korea. Nearly all of today's scissors function just the way this pivoted style found in ancient Rome worked. Amazing! So simple and ancient, and useful…
We have a few favorite types of scissors in the studio:
1. Dressmakers' Scissors, also called Tailors' Shears or Bent Trimmers
These have a round thumbhole opposite an oblong hole for two fingers. Blades are, one straight and one 'bent' allowing the pivoting action to happen close to the table surface, reducing slippage while increasing accuracy.
The pivoting, bent blade action also reduces fatigue when doing lots of cutting. Dressmakers (Tailors, or Bent Trimmers) come in Left or Right handed models in lengths from 6" to 12". The most comfortable size for my hands is 8.25", a nice long cutting blade without the added weight of something longer. My hands-down favorite pair EVER are the Ernest Wright Dressmakers. I stumbled across this brand online 10 years ago. Then was able to try them in person at London's Knitting and Stitching show 5 years ago and fell in love. Not only are they still super sharp, they are light, fit perfectly in my hand and are handmade by a team of tool makers in Sheffield UK.
The pandemic has doubled demand while lock-downs have slowed production. I am excited to say that we have a batch of these beauties in stock and shipping at the time of this writing. You can order a pair here and avoid the 6 month wait that usually accompanies a purchase of this gorgeous tool.
You will not be disappointed with these beautifully handmade, sharp, light, and perfect fitted tool, enabling day-long cutting comfort. Do you have a favorite pair of scissors? The other pair I love are a 12" pair of tailor's scissors gifted to me by a dear friend and the grandson of the tailor who made his living using them.
2. Embroidery Scissors
These sharp pointed little scissors are used for thread snipping, or super precise fabric cutting. They range in size from 3-4", made with matching straight and very pointy blades, and circular finger holes. Embroidery scissors are ambidextrous working just as well in a left or right hand.
Our studio favorites are made my Ernest Wright engraved with a traditional stork motif.
Legend has it that the stork is a common emblem on embroidery scissors as they were originally carried by midwives and used to snip umbilical cord. (Still not sure why storks and babies are a thing) Midwives often did needle work while awaiting the arrival of hard labor – using the tools at hand to keep their hands busy…
So today we have stork embroidery scissors.
3. All-Purpose Scissors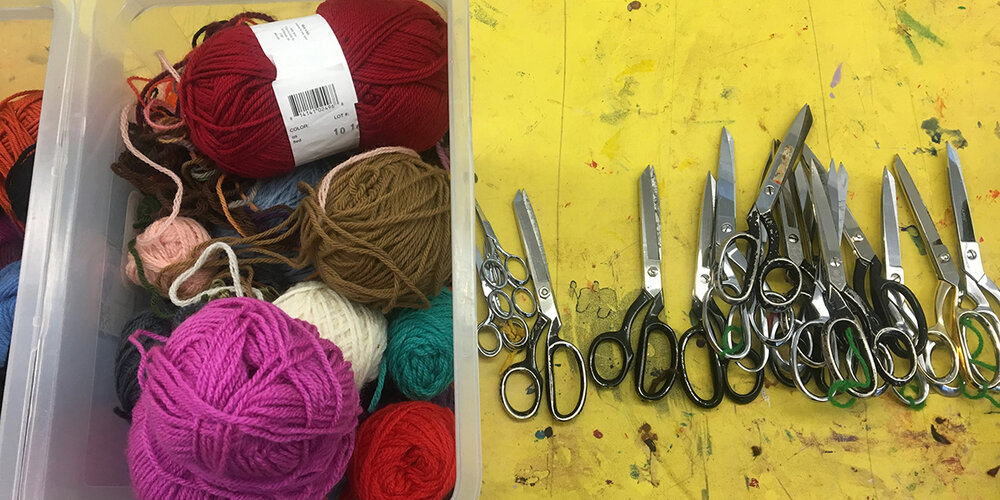 In order to keep fabric scissor sharp and suitable to easily cutting through any type of cloth, I keep a pair of what I like to call 'All Purpose Scissors' handy. There are no particular recommendations for this tool other than they should be comfortable in your hand and always accessible so when you are cutting things like a paper pattern, or cardboard template you are not tempted to use your Dressmaker scissors for the job.
We have all-purpose scissors positioned in places where paper is cut throughout the studio, in our shipping area, office and kitchen you will find a pair handy.
These three types of scissors in my toolbox work together to keep each in good working order. In addition to choosing the right pair for the job, I carefully wipe down my Ernest Wright Dressmakers after extended use, being sure they are clean and free of lint build-up between the blades. A low-lint, absorbent t-shirt scrap is perfect to this job. If scissors squeak at all, add a drop of sewing machine oil to the pivot point and let sit over night. Be sure to wipe clean before cutting to so you don't get oil on your fabric.
We gathered all of our miscellaneous scissor inventory together and have posted them in the shop. As we go forward we will continue to offer our Ernest Wright favorites, at the time of this writing we have a few pairs of less expensive brands available while supplies last. They might not be our personal favorites but good quality for sure.
AND, one last thing about scissors….
Some of you know, that my parents were artists. As kids we were surrounded by all manner of supplies and techniques to try. After they passed, my sister and I were clearing out our family homestead where they had lived for 44 years (and she now lives with her family). There were 123 pairs of scissors at last count, all quite dull. Maybe this is why I am a stickler about buying quality and taking good care of your tools. It actually saves money when you think of the cost of the poorly maintained 123 pairs. . . .
Do you have a funny story about scissors? What is your favorite pair? Share a comment below.